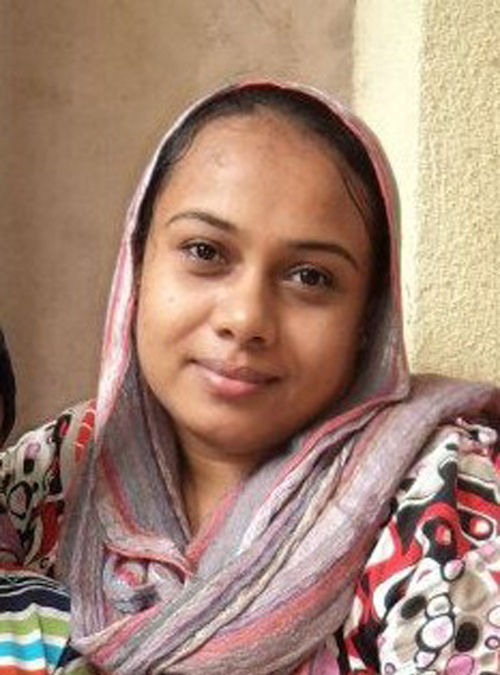 SHARMILA SEYYID
Born 1982
Sharmila Seyyid (1982) is a writer, a social activist, and a fearless social critic. Sharmila is from Eravur, in Sri Lanka's Eastern Province. She has worked as a journalist and a writer since 2001. As an activist, Sharmila interacts closely with minority Tamil Speaking women in the aftermath of Srilankan Civil War (1983-2009)
As a writer, Sharmila Seyyid interrogates themes related to women's rights, children's rights, humanitarian conflicts, youth activism, gender, and sexuality, and more. Sharmila's dedication to advancing gender equality has been met with several challenges. She has become a target of the very persecution she seeks to fight. Sharmila rapidly became a target of vitriolic criticism, harassment, and death threats because of her literary work and activism. In December 2012, as a result of massive backlash, Sharmila made the difficult decision to go into self-exile, traveling to India with her son, who was two years old at the time. While in exile, she completed her higher education and published her first novel, Ummath, in 2014.
After living at the edges of society for four years in India, Sharmila returned to Sri Lanka in 2016 to continue her work as a human rights advocate and writer. Upon her return, she established Mantra Life, an organization that seeks to lessen the gender gap in Sri Lanka's economic, political, and social spheres by helping women become financially independent.
Unfortunately, Sharmila continued to feel threatened in her home country. On Easter Sunday in 2019, a group of churches in Sri Lanka were bombed by National Thowheeth Jama'ath (NDJ), a militant Islamist group. Resulting in the death of hundreds, the Easter Sunday bombings were the most violent incident in Sri Lanka since the civil war, inciting suspicion, insecurity, and fear across the country. In the wake of this, authorities contacted Sharmila to notify her that she had been named as one of the NDJ's targets, possibly due to her outspoken statements on gender equality and human rights. Feeling that her family was at great risk, Sharmila was again forced to go into exile and separate from her sons in August 2019. For two months, she was a resident at the Art Omi residency in New York and traveled from there to India and then Thailand, and Turkey.
In 2014, Sharmila Seyyid was awarded the "Inspirational Women" Award by Women in Management in Sri Lanka and her literary work has received awards including 'best novel of the year' for Ummath by the Tamil Progressive Writers and Artists Association in 2014. Ummath is published in English by HarperCollins. Two of her latest works have been translated to English as well. After Ummath, Seyyid went on to publish nine books: fiction (1), non – fiction (2), poetry (2), stories (1) and volumes of articles (3) Sharmila Seyyid was awarded a prestigious IIE-Artist Protection Fund Fellowship (IIE-APF) and placed in residence with UNO's Leonard and Shirley Goldstein Center for Human Rights (GCHR) and UNO's Sam and Frances Fried Holocaust and Genocide Academy.
UMMATH (Ummath)
Number of pages: 352
Spanning the three decades of the deadly Sri Lankan civil war, Ummath highlights the plight of women across communal and ethnic divides.
Through the lives of three women, Thawakkul, Yoga and Theivanai – one a social activist, the other a Tamil Tiger forced into joining the movement as a child, and the third a disillusioned fighter for the Eelam – the novel lays bare the complex equations that ruled life in Sri Lankan society during and in the aftermath of the civil war.
In Ummath, Sharmila Seyyid – once forced to live in exile for her outspoken, liberal views – interrogates Islamist fundamentalism, Tamil nationalism and Sri Lankan majoritarian chauvinism with her characteristic courage, honesty and sensitivity.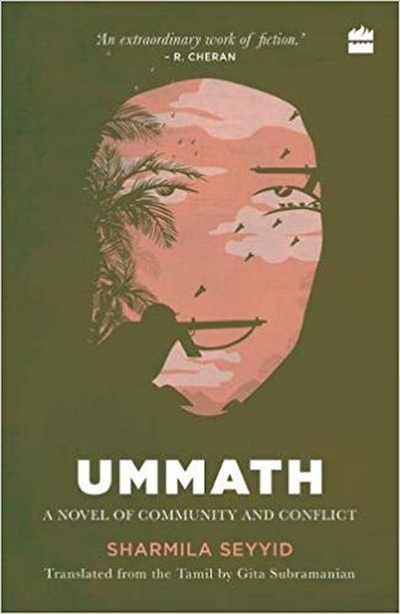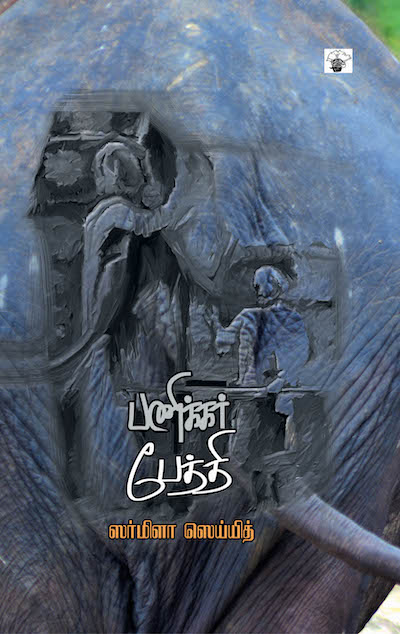 THE ELEPHANT GRANDDAUGHTER (Novel) (Panikkar Pethi)
Number of pages: 110/p>
The Elephant Tamer's Granddaughter is set in the hometown of the writer - Eravur in Sri Lanka - and unfolds through the life of Zaharwan, the eponymous Panikkar Pethi. Sharmila portrays a range of characters and their complex spectrum of emotions in just about hundred pages in the Tamil original.
Offering tantalising glimpses into her family history, grandfather's fame, childhood, marriage, struggles as a single mother and her old age, this novel deftly weaves the story of its protagonist with the experience of Sri Lankan Muslim women. It illustrates how the community is tied to the country's history and culture - something that the state and Sinhala majority have tried to erase.
Zaharwan, an orthodox Muslim, Tamil, merchant family in Sri Lanka, shows exemplary courage and will-power when she confronts male chauvinism and the suppression of women overtly as well as through different, insidious social practices like dowry.
Zaharwan faces and counters all these challenges with silences and smiles. Her religion seems to be only love. Through her love, she gets not only her family, but also other women and neighbors, to stand together in solidarity to fight causes.
This does not at all mean that Zaharwan is a meek, submissive, helpless woman. The two important men in her life prove to be villains. Her father, a wastrel and an insensitive man who fritters away his family wealth, leaves his family of six children, marries again even before his children come out of mourning after their mother's death. Later, she is deserted by her authoritative and abusive husband because she cannot produce a girl child.
Zaharwan works hard to bring up her four daughters and see them married and well-settled. Her honesty and commitment to give value for the money she earns bring her many friends.
Hers is a life of utmost sacrifice; yet she never tries to bring her husband back; she never once considers going down on her knees before him or his family. She has no interest in taking him back and being considered magnanimous by those around her. However, she never gets in the way of her children's relationship with their father. Zaharwan's love for her children and grandchildren earns her their great love and respect.
Written in effortless prose, the narrative is imbued with passion and warmth without being overly maudlin. The writer's poetic sensibilities elevate the narrative, with flashbacks and vignettes leaving the readers wanting more.
The narrative breadth is expansive, covering almost a century. It covers this time period sporadically, yet meaningfully, offering background on the characters, fleshing out their motivations and relationships with vivid strokes. The novel switches between the various timelines with ease, ensuring a steady pace throughout. Seyyid places Sagarwan at the front and centre of the narrative and explores various relationships from multiple perspectives. Women largely dominate the landscape of this novel.
Panikkar Pethi also spotlights the emerging, imperative trend of women writing about the female experience in a Muslim community and the struggles of navigating their lives in a patriarchal society. The women in this novel are courageous, passionate, strong-willed, affectionate and self-assured. Set in a community that is often stereotyped, and where the women are painted as only victims, this novel is a breath of fresh air that features complex relationships and women standing up for each other and fearlessly asserting themselves. Seyyid also interrogates themes of parenthood, family, marriage, war, conflict, religion, women's rights and geopolitics in a manner that is organic and nuanced.
This book is a celebration of women and of what woman-power can truly achieve. The vivid descriptions of places and of people, as well as of Zaharwan's deep communion with nature, add to the richness and beauty of the narrative.