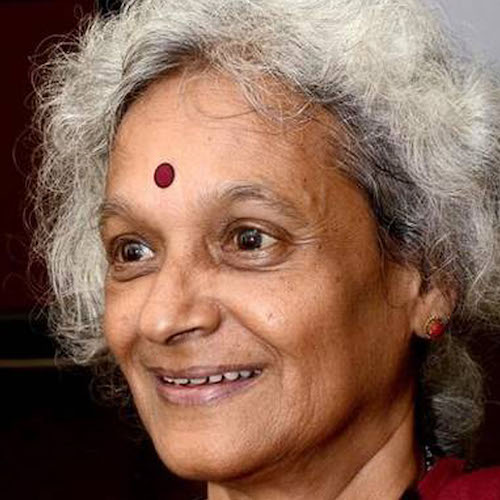 AMBAI
Born 1944
For over four decades, Ambai (b.1944), pseudonym for C.S LAKSHMI, has written fiction that reverberates with the ideals of feminism and a sensitive grasp of socio-cultural realities. She has also authored a pioneering research monograph, The Face Behind the Mask: Women in Tamil Literature (1984).
Ambai's intricate stories constantly reinvent the form of the short story, tantalizing and delighting the reader. They interweave lives, articulating the real experiences of women and communicating their silences in words and images. A mix of narrative forms – letters, dispatches, journals, emails, memos and articles – adds variety. Three collections of her short stories have been published in English to international acclaim. She won the Crossword award for the collection In a Forest, A Deer.
FISH IN A DWINDLING LAKE (Vatrum Yeriyin Meenkal)
Number of pages: 176
Journeys form the leitmotif of these astonishing new stories by Ambai. Some culminate in an unconventional love affair, some are extraordinary tales of loyalty and integrity; others touch upon the almost fantastic, absurd aspect of Mumbai. Yet others explore the notion of a wholesome self and its tragic absence at times. These stories are illuminated by vivid and unusual characters: from an eccentric, penurious singer-couple who adopt an ape as their son to a male prostitute who is battered by bimbos for not giving 'full' satisfaction.
Crucially, some of the stories, like the title story, engage uninhibitedly with a woman's relationship to her body. For Ambai, feminist par excellence, the sensual body, experienced as a natural landscape changing with age, is, at the same time, the only vehicle of life and tool for mapping the external world.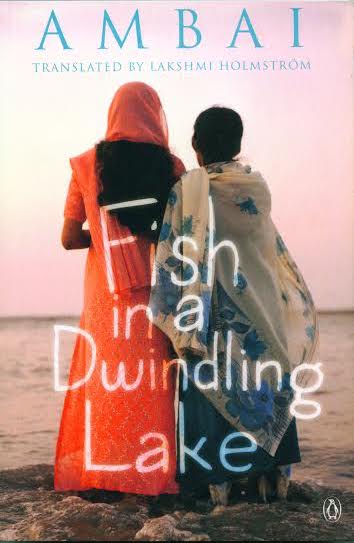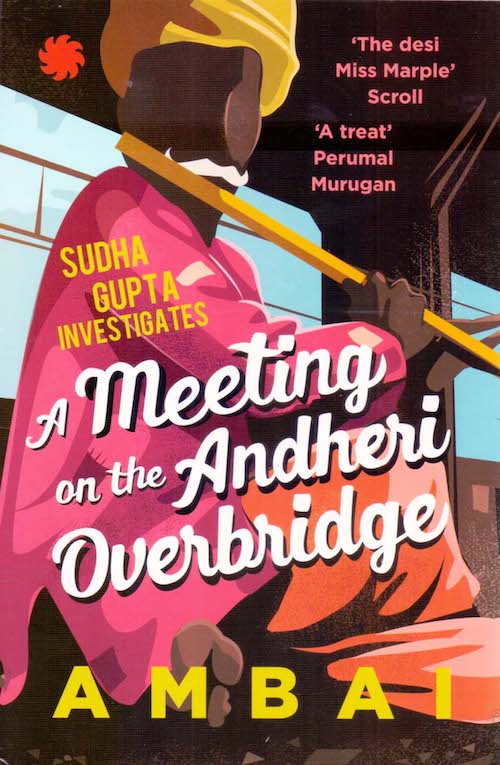 A MEETING ON THE ANDHERI OVERBRIDGE (Andheri Membalathil Oru Santhippu)
Number of pages: 216
Sudha Gupta has a flair for solving problems. Armed with sharp eyes and a keen mind, she works as a private detective in Mumbai.
In these stories, both delightful and dark, she assists the police in finding three missing girls, investigates a potential bridegroom and helps an old woman in distress.
In the clever and warm – hearted Sudha Gupta we finally have the Indian equivalent of Mma Ramotswe and Miss Marple.
Other works by the author:
*In a Forest, A Dear – Puplished in English* (Oxford)
*A Night with a Black Spider - Puplished in English* (Speaking Tiger)
*The Purble Sea - Puplished in English* (East west Books)

A PURPLE SEA
Number of pages: 254
About the author: C.S. Lakshmi writes in Tamil under the name Ambai. Her first book of short stories "Shattered wings" was published in 1976. She is also the author of studies about women's literature in Tamil. As a scholar, she works on projects related to the history of the women of Tamilnadu and is responsible for the SPARROW project, a Sound and Picture Archives for Research on Women. She is involved in the feminist movement.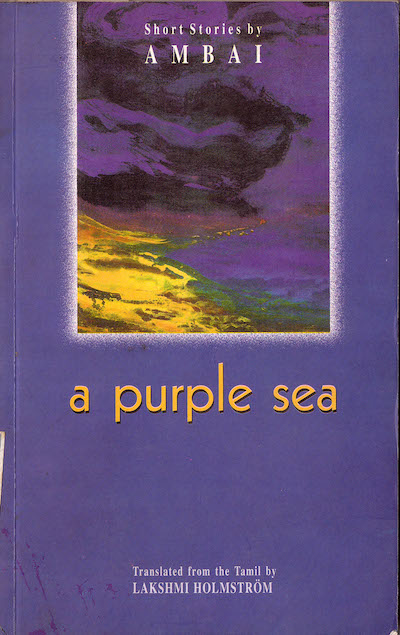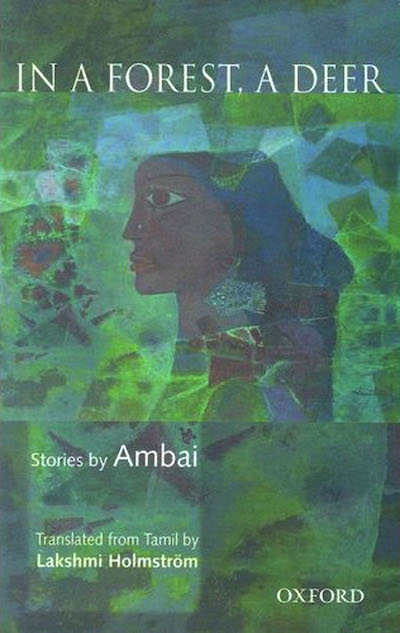 IN A FOREST, A DEER (Kattil Oru Maan)
Number of pages: 207
Ambai, one of the finest modern Tamil short-story writers, is much read, discussed and written about, and loved for the wit, innovative story-telling, and lyrical grace of her writing. Breaking traditional modes of expression in terms of language and content, In a Forest, a Deer recounts the saga of Tangam Athai, whose husband remarried because she could not bear him a child and Chinthiru's journey to the forest alongside the mythological tale of Sita's exile to underscore Chinthiru's unique search for self-identity. Winner of the Hutch Crossword Book Award 2006, this collection is an enduring testimony of the ideology and belief that Ambai's writings affirm-the need to know and be in touch with a stable or 'grounded' self that allows fluidity and change in modern times of travel, dislocation, and exile.
A NIGHT WITH A BLACK SPIDER (Oru Karuppu Silanthiyudan oor Iravu)
Number of pages: 220
Setting the stage with the Asura Mahishan's doomed love for the beautiful Devi, Ambai deftly combines myth and tradition with contemporary situations. In the title story, the women who is mother, daughter, solver of all problems for her family, finds that it is only a black spider on a wall in a deserted guest house with whom she can share her own time and suffering; In Burdensome Days, Bhramara enters a world of politics the turns her music into a commodity, while in A moon to Devour, It is through her lover's mother that sagu learns that marriage is not a necessity for motherhood.
Like the strains of the veena that play again and again in this masterful concert of stories, journeys to weave in and out. By train or bus or autorickshaws, each journey takes one into a different facet of human nature: the power of caste over the most basic of bodily needs like thirst; the simple generosity of a mentally afflicted child who loves the colour blue; the loneliness of dying amongst strangers, and the final journey of a veena whose owner herself had gone before it into another world. As in most of her writing, women are central to Ambai's stories, but so too is her deep understanding of, as she puts it, 'the pulls and tensions' between the many different things that make up life and ultimately, create a story.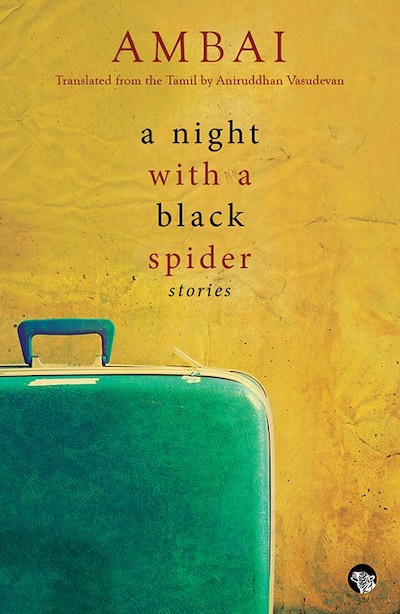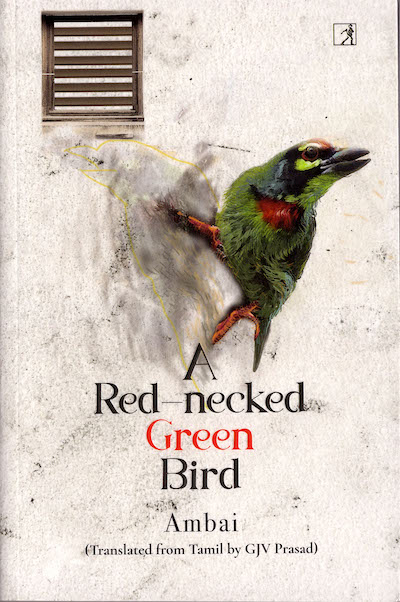 IA RED-NECK GREEN BIRD (Sivappu Kazhuthudan Oru Pachai Paravai)
Number of pages: 164
Myths and legends jostle with the contemporary in these stories where social issues of our times resonate with the inevitability of the past.
The lyricism of Carnatic ragas permeate the pages of this quiet and powerful book in which love is rendered in all its immeasurable avatars—parental, carnal, platonic, romantic, divine. There is the woman who reinvents the notion of love in a unique way that amalgamates technology and spirituality through the internet; a man full of love who can sing Bulleh Shah and the woman who has lost her all in the 1984 anti-Sikh riots; the woman in the title story who stands by her deaf daughter but understands why her husband must leave the home they have built with love all these years; the man who finds out what it is to be a woman after a dip in the pond... These short stories are shorn of sentimentality but have a deep understanding of what it means to live, to love and to die.
CS Lakshmi, writing under the pseudonym Ambai, has been a significant voice in Indian literature for the past four decades. A Red-necked Green Bird is the writer's seventh collection of short stories.
A KITCHEN IN THE CORNER OF THE HOUSE (Veetin Moolaiyil oru samaiyalarai)
Number of pages: 364
Collects Ambai's most daring, original stories. Her narrators are always filled with courage, stretching the concepts of home, marriage, and world. They embark on journeys small and large: taking offerings across town to the goddess Mariamman or packing up four deities in the plastic box and flying them to America. These women knead mountains of chapatti dough, step deep into rivers threaded with fish, and stay up late talking about books and music. Ambai's words are sharpened knives, carving out a new terrain for young women in a tradition-bound world. It's in the small lapses – when a character forgets, fast forward a tape, or begins another journey – that Ambai frees up a new linguistic and mental space.