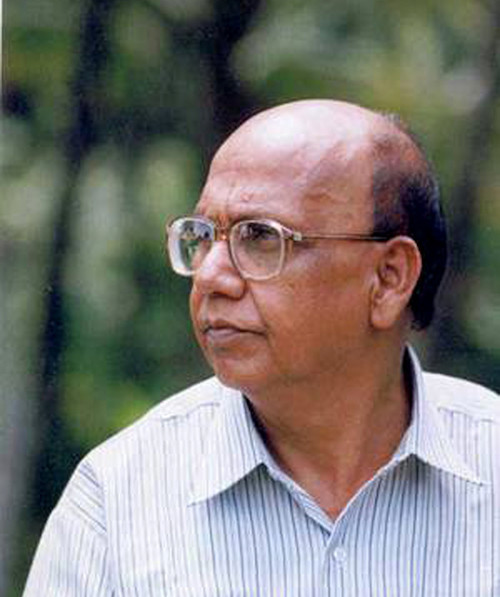 A MADHAVAN
Born 1934
Madhavan was born in 1934 in Trivandrum (Thiruvananthapuram), Kerala, to Chellammal and Avudainayagam, who belonged to Kanyakumari district. His schooling in the Malayalam medium gave him an opportunity to taste Malayalam literature. His literary interest widened with the Tamil works of stalwarts such as Pudhumaipithan, Ka.Naa.Su., La.sa.Raa., T. Janakiran, Na. Pichamurthy, Ki. Rajanarayanan and Sundara Ramasamy.
While Madhavan was engaged in business in Trivandrum's Chaalai market area, Tamil mixed with Malayalam spoken by the common people became the inspiration for his characters. Over a period of about sixty years, he has created a large body of literary work: three novels Punalum Manalum (On a River's Bank), Krishna Parunthu (Brahmini Kite), Thoovaanam (Drizzle); three important translations from Malayalam: Malayatoor Ramakrishnan's Yakshi (A Muthical Being), P.K. Balakrishnan's Ini Gnan Urangatte (And Now, Let Me sleep) and Karoor Nilakantapillai's Sammaanam (Reward); two novellas Kaalai (Bull), Ettavathu Naal (Eighth Day); some literary essays and more than sixty stories.
Madhavan won the Sahitya Akademi award in 2015 for Ilakkiyach Chuvadugal (Traces of Literature).
On a River's Bank (Punalum Manalum)
Number of pages: 267
On a River's Bank is a story of ordinary people through an extraordinary narrative. Angusami, panki and Damodaran have very different needs and yearnings. Panki, Angusami's stepdaughter, is ill treated by him because of her deformed appearance. She holds this sulking father in high esteem while she dreams of a savior. Her dream approaches reality when a young Damodaran joins Angusami in his work of dredging and selling sand, and acts as a bridge between daughter and father.
The riverfront pulsates with chaotic energy with the blessings of Madan Tampuran, the god on the banks. Prolonged sand-dredging causes wounds in the river, forming deep pits in its bed, resulting in torrential flows during the rains. The business becomes increasingly hazardous, making Angusami beliege that it is all due to the ill luck brought by the deforme Panki. During a day of heavy downpour, a boat capsizes mid-river and passengers are drowned. Panki is among them. Will she survive.
In what must be a rare and sensitive portrayal of an ugly female character, the author underlines that violation of the river leaves it ugly and invites retribution despite worship.
Published originally in 1974 in Tamil, Punalum Manalum is a path-breaking novel raising the issue of environmental degradation through over-exploitation, long before this became a topic of discussion in India. An early example of what is now known as 'ecofication'.
'Madhavan is a compassionate writer. He never blames people, nor does he make villains out of certain characters.
Natural elements – the river, the sand, the rains and the floods – blend with the characters in this novel, even as Madhavan subtly hints at the need for exercising caution when exploiting the bounties of nature. Like the gentle flow of a river, the novel calmly portrays the contradictions humans have to negotiate with nature as they uphold certain asesthetic values, of what is beautiful and what is not'.
-Perumal Murugan